This post on Google Sheets vs Microsoft Excel will help you to find out the Goods and bad of both the products. It will help you to decide which software to use, in case you are looking for spreadsheet software. As a student, if you are looking for a free alternate, Google sheets and Libreoffice calc may be good options for you.
Google sheets vs Microsoft Excel
Google Sheets and Microsoft Excel are both, Spreadsheets, where you can organize your data in cells (rows and columns), and work on complex functions and charts.
Google sheets is an online web-based spreadsheet tool, part of Google Docs. It can be accessed online from the link – https://docs.google.com/spreadsheets/u/0/
Microsoft Excel is software that is part of the "Microsoft Office" suite from Microsoft. Although it is also available online as office 365.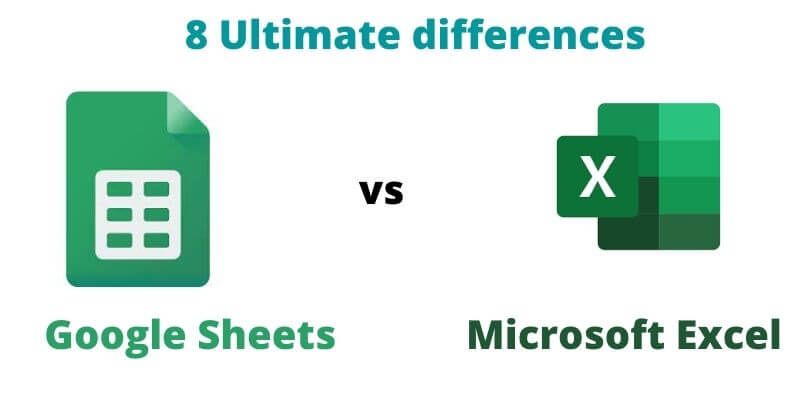 Cost Comparison
Google sheets are free-to-use for personal users. If you want to use it for business purposes there are various plans offered by Google with different prices, that you can choose from.
Microsoft Office is a paid software. You can buy it as a standalone or as a part of "Microsoft Office" or "Office 365 subscription".
How to use Google Sheets vs Microsoft Excel
Google Sheets
You can access the link from any web browser, from your computer/Mobile devices/Tabs and start using Google sheets, no download or installation is required. Login using your Google account, and you are good to go.
Internet is a requirement for using Google Sheets, as it is online.
Microsoft Excel
Microsoft Excel is an offline software, and for using it you have to download and install it (Onetime) before it can be used. The files you create can be can be locally saved on your device or if you wish you can save them on the cloud.
If you want to use it online, then you can access the Microsoft office 365 web page. Just enter your login id and password. Start using Microsoft excel.
Password Protection
Google sheets, do not have the option to set passwords on individual files. Your file is however protected by your Google account password that you use for login into Google sheets. This means the same password is being used for all your files. If your account password is compromised all your sheets are compromised.
 When using Microsoft Excel you can password protect your files using individual passwords, if required, for security reasons. The file saved on your computer or phone can be accessed only with the correct password for the spreadsheet, thus even if your login password is compromised, data in your file can still be safe.
This is really an important feature to secure Financial and data-sensitive spreadsheets.
Share and Collaborate
Google sheets provide an easy "share" option for your spreadsheet with different privileges to users -"Editor", "Commenter" and  "Viewer".Multiple users can work on the same document, at the same time. Any changes made to the document can be tracked by the user. This makes it easy for multiple users to update the data simultaneously. The current cell, on which the user is making modifications is highlighted for everyone, so multiple users are not updating the single cell at the same time. It allows real-time chat options with multiple users, saving time and effort.
Microsoft Excel can be used by multiple users if shared on OneDrive. However, every user will have the privilege to edit the file as. You cannot restrict the access when shared to just commenting or viewing.
Auto Save feature
When you create a new file in Google Sheets, it is auto-saved. So if you accidentally close your browser, you do not lose your data. All your changes are also auto-saved on the sheet.
In Microsoft Excel, you have to save the file manually if you are not using it as part of an Office 365 subscription. While using Office 365 you can enable auto-saving your file to OneDrive.
Latest Features
All the latest features and functions are available when you use Google sheets, as it is available online. You don't have to worry about getting updates when using Google sheets.
When using Microsoft excel, If you are using it as part of a Microsoft Office 365 subscription, you will keep getting the updates as they are released. If you are using versions previous to excel 2019, you will not the latest features. You will have to pay for the next release to get the latest features.
Data Size
Google Sheets can support up to 5 million cells, which is much less as compared to Microsoft Excel. It can support up to 50,000 characters per cell. If your data size is huge, go for Microsoft excel, the latest version supports 1,048,576 (2 to the 20th power) rows by 16,384 columns. The Value for rows & cells is lesser in older versions. It can support up to 32,767 characters per cell. If you want to know more about the supported cell/file /character size you can visit this link.
Functions
Both Microsoft Excel and Google sheets provide a vast range of functions to manage the data. Macros were not available in Google sheets earlier, but now they can be used in both Google Sheets and Microsoft Excel.
Conclusion
Google Sheets and Microsoft Excel are both excellent products for spreadsheets. Depending on your requirement and considering the points above you can choose the product that best suits your need.
If you are a student, you can go with Google Sheets, but if you are a pro and can afford a license. You must go with Microsoft excel. Its features are unmatchable and Google docs are still trying to match them.