In this post, we will learn how to open eml file in Gmail. The ".eml" file stands for electronic mail or email. It is a file extension to save a message in the Internet Message Format protocol for electronic mail messages. I will use the Gmail backup utility to import or open the eml file in Gmail.
If you use Apple Mail or Microsoft Outlook, you must be knowing that eml is the standard file format for these email clients. The EML (Electronic Mail) was developed by Microsoft originally.
Why you need to open "eml" file in Gmail?
Gmail doesn't support opening the ".eml" file extension by default. But in case you or your company move to Google workspace business app from MS Outlook or any other email client.
You may need to restore or import your old/pinned emails to Gmail. That's the time when you need to open eml files in Gmail.
Also, you can backup and restore your Gmail emails in ".eml" format. I will let you know the step by step process to open the eml file in Gmail.
Pre-requisite to open ".eml" file in Gmail
Below mentioned are the requirements –
Gmail backup software
Enable legacy/less secure app settings in Google account temporarily
Enable IMAP settings in Gmail account
Gmail account to open eml file
How to open eml file in Gmail – Step by Step
Let me tell you again, there is no official method or guideline to open an eml file in Gmail. But there is one old but effective utility, which can help us to import eml files in Gmail easily.
Let's deep dive –
Step1- Download Gmail backup utility
Gmail backup utility was created as a project to take backup of Gmail in a single click by Jan Švec and Filip Jurčíček. Gmail backup allows you to take backup and restore your emails in Gmail free.
It also allows migrating your email message from one account to a Gmail account. It is based on IMAP protocol to fetch and keep your messages local.
You can download this utility from below mentioned link.

Step2- Install Gmail backup utility in your Windows 10
Go to your download folder and run the Gmail backup exe file.

Choose Yes in "user account control" dialogue box to allow this app to install
Choose "Next" on Gmail backup wizard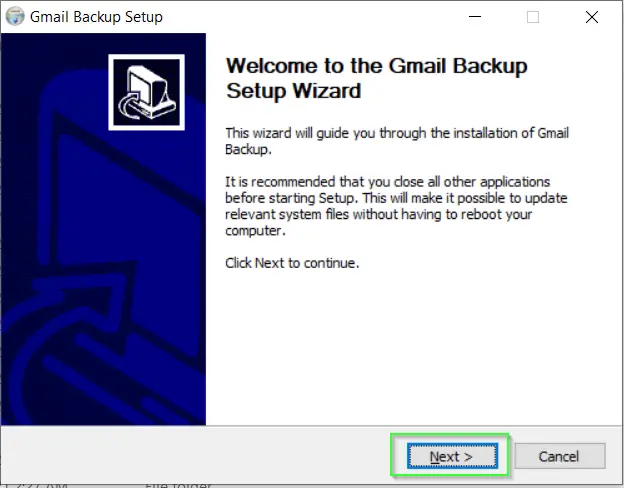 Choose "I Agree" on the licenses agreement page.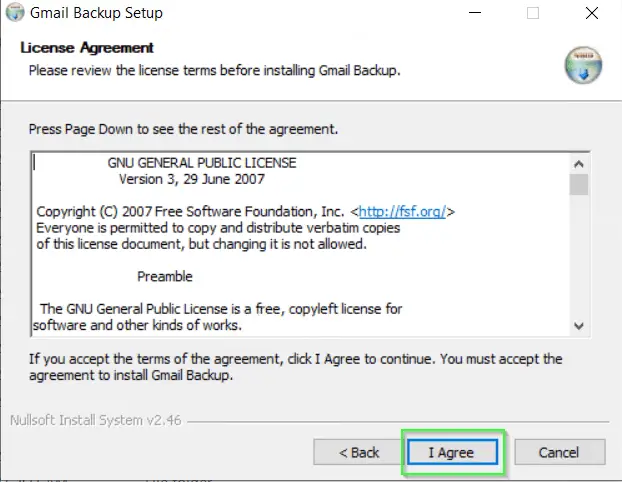 Choose features of Gmail backup and click Next. I would suggest to keep all selected.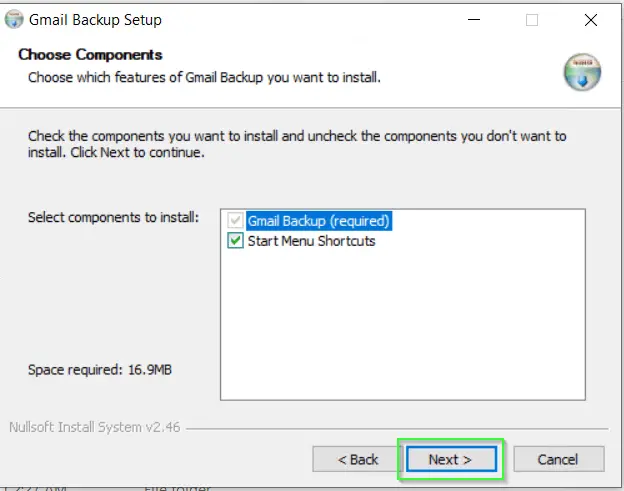 Choose Gmail backup "Install location" in this step and hit "Next". You will need 16.9MB free space on your disk to install Gmail backup and restore utility.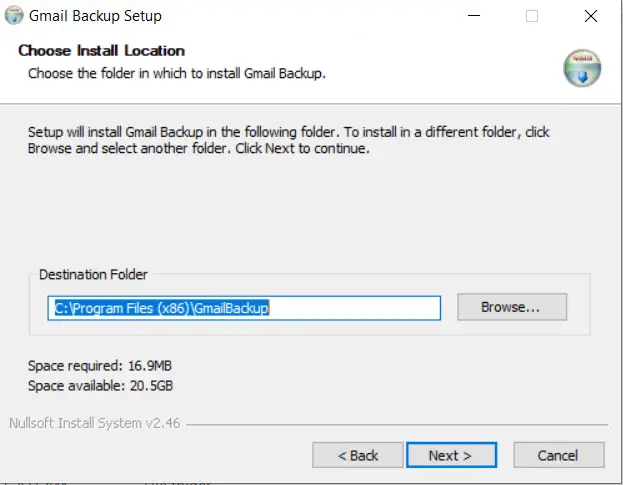 On this screen, Create start menu folder shortcut and tap "Install".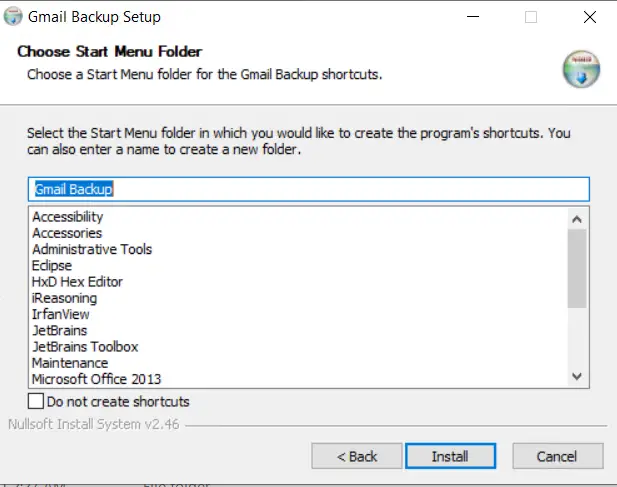 Gmail backup installation setup will take a minute to complete and click "Finish" to close the wizard.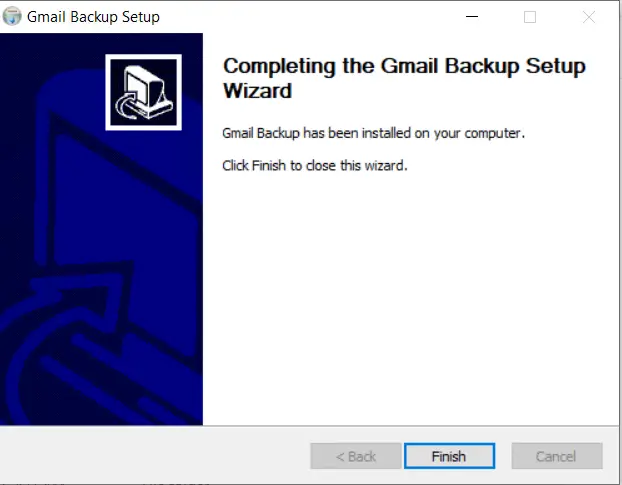 How to take backup/export Gmail emails in ".eml" file format for free
Before running any backup or restore of eml files, you need to enable a few settings in your Gmail and Google account.
Step3- Enable IMAP settings of your Gmail account
Open Gmail account on your desktop or laptop
In the top right, click Settings   See all  settings.
Click Forwarding and POP/IMAP tab
Choose "Enable IMAP" option in IMAP access section and save changes. By default "IMAP" is disabled in Gmail account.
Check this image for further reference.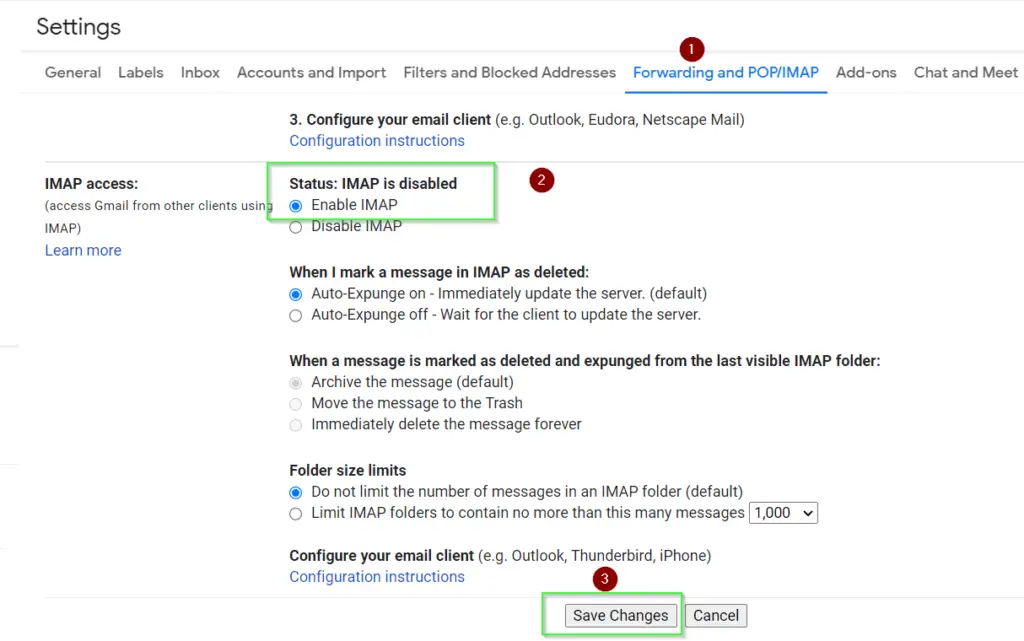 Step4- Enable legacy or less secure app access setting in Google account temporarily
Go to less secure apps link in your Google account.
Turn Allow less secure apps on.
In case you have account with "2-Step Verification" enabled, then you need to disable it first temporarily to enable "Allow less secure apps" settings.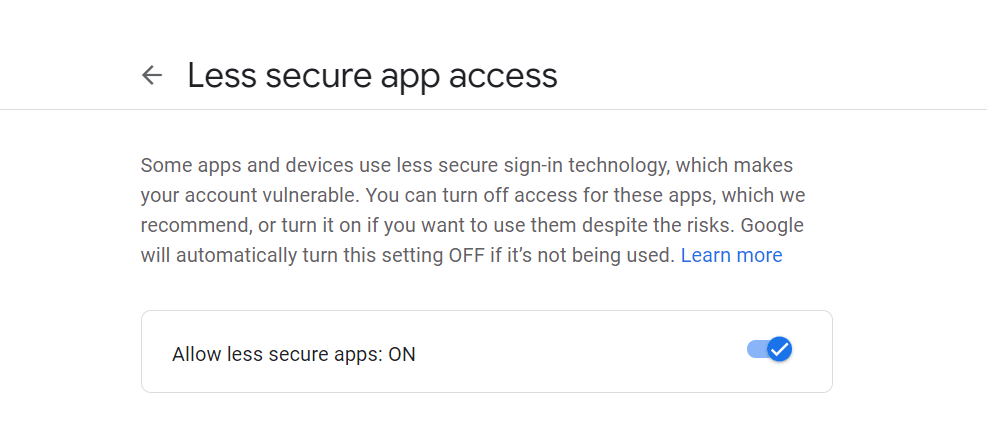 ** Once you are done with backup or restoring of your Gmail eml files, don't forget to set "Allow less secure apps settings" to off. Then enable 2-factor authentication again.
Now Double click on the shortcut of "Gmail backup" on Desktop and launch the Gmail backup utility.
Step5 – Provide Gmail ID and password to take backup of your email in Gmail
You need to fill in all required information in Gmail backup software as shown in the image.
Gmail login Id – Fill full email address in the provided field
Gmail password – Provide your Gmail password
Backup Folder – where you want to take backp of your emails in Gmail
Since date – Date since you want to take backup emails. Keep it latest by default
Before date – Before date from where you want to backup or restore emails. Keep it latest date.
Newest emails – In case you want to backp only newest email provided date Since or Before field.
Hit the "Backup" button, once you are done with all required fields.
You will get backup completion percentage and successful message, once backup completes.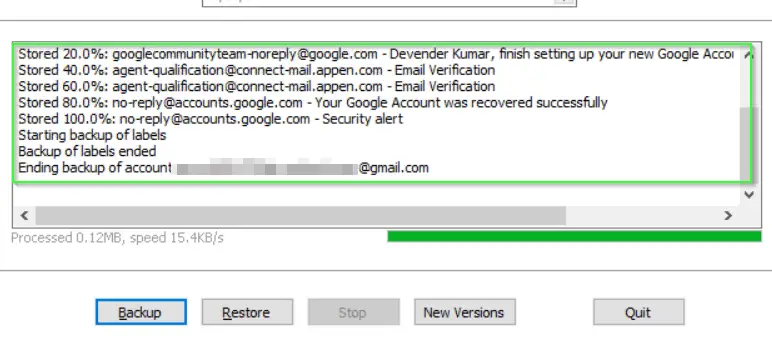 Once the backup completes, you will see a lot of eml files (You Gmail emails) in your backup folder under subfolders.
For example, the folder structure is C:\BKP\2021\12 in my case. Where 2021 is the year and 12 is Month. So you will get your emails (.eml) in months/years subfolders.

How to open eml file in Gmail using Gmail backup restore option
Now to restore or import any eml file in Gmail, you need to use the same steps as backup except you need to hit the restore button.
Provide Gmail Id and password
Provide the restore directory where your "eml" file exists.
To open eml files in Gmail, tap restore button.
You will see successfull restore message and percentage as shown in the image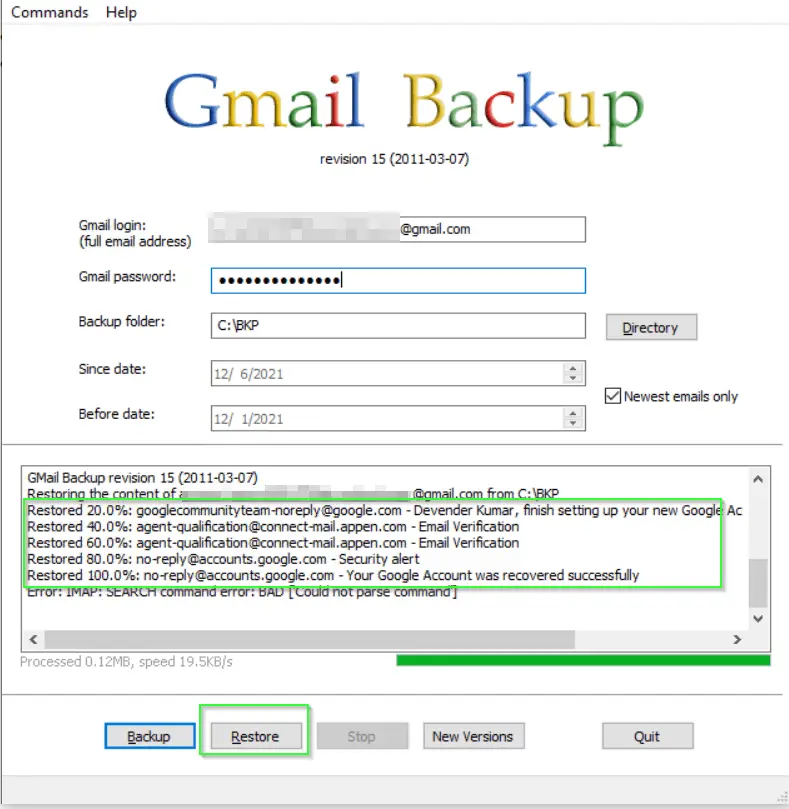 It will restore/import/sync all your eml files to Gmail "updates" label as shown in the image.

Pro tip- In case you want to open a couple of selected email (eml) messages only. You can copy those eml files to a separate folder and restore them using the Gmail backup tool. It will sync/import the eml files for your use.
You can also use Gmail backup tool to migrate email message from Outlook to Gmail account free.
Congrats!! Now you know how to open eml files in Gmail easily. Let's talk about a few issues and solutions to the errors, you may face during this process.
Troubleshooting
Why am I getting the "Your account is not enabled for IMAP use" error?
If you are using Gmail backup or any third-party email client which is based on IMAP protocol. Then you need to enable IMAP in your Gmail account settings to get rid of this error. Just check Step-3 in this tutorial to enable IMAP.
How to fix IMAP: Authentication failed, INVALID credential error
To resolve this error, you have enabled IMAP as explained in Step-3 and also enabled less secure apps for your Gmail as shown in step-4.
In case still, you are getting this error even after enabling both settings. Try disabling and enabling IMAP settings once again. This issue will fix.
Why Error: IMAP: SEARCH command error: BAD ['Could not parse command']?
To fix this error try the following steps –
1.) Try to change the backup directory structure, in case you are doing backup and getting this error. For example, if you are using the c:\BKP directory, you use the new path C:\Gmailbackup.
2.) Make sure you select the "newest emails only" box.
OR
3. Try deleting ids.txt and labels.txt from your backup directory e.g C:\bkp and try backup of Gmail again.
This must fix your issue.
Conclusion
Using Gmail backup utility, you can use backup, restore and migrate your Emails in Gmail free and easily.
If you like this post on "How to open eml file in Gmail", Please share it with your friends and bookmark it for future reference.
In case you face any issues, you can leave a comment. I will try to help you.
Happy Learning.