I decided to write this post because many people ask "How to add shortcut to Google chrome Homepage" and they didn't get the complete answer on the internet. I will let you know 2 methods, Manual and using Chrome extension to add your favourite website to the Google Chrome homepage.
How to add shortcut to Google Chrome homepage
Google Chrome browser is really popular and widely used due to its speed features and available extension. Still, there are many basic features, which are neglected by Google developers e.g (customizing shortcuts in android). I hope these will be introduced in future releases.
Let's talks about the first method of adding thumbnails (shortcuts) to the Google Chrome homepage.
Method-1 Add shortcut to Google Chrome home page manually in Laptop or Desktop
Step-1 Open Chrome browser
Make sure you have the latest Chrome browser. In case you are have not updated your Chrome browser, click on three dots on the top right corner and click update chrome. It may ask you to download and install chrome again.
I am using Google Chrome "Version 95.0.4638.69 (Official Build) (64-bit)" while writing this post, which is the latest currently.
Step-2 Click on the "Add shortcut" button
Once you have opened the Google Chrome browser, you will see the "Add shortcut" button as shown in the image.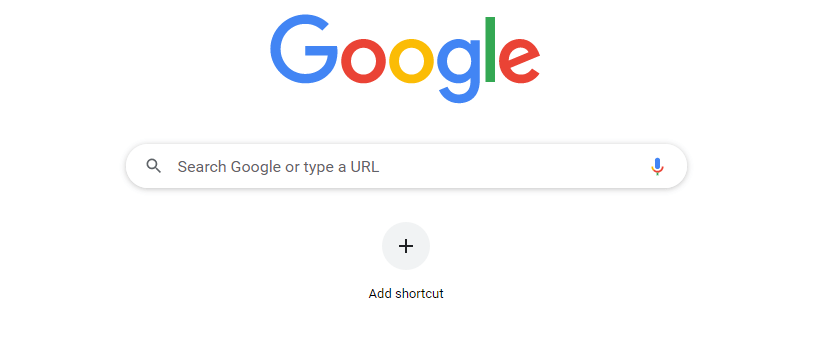 But what if I can't see the "Add shortcut" button? Don't worry, follow these steps to get this visible.
Step-2.1 In the bottom right corner of the Google chrome page, Click on "Customize"
Sometimes, when you have your default "homepage" set, you will not able to see the "customize" option.
Click on "new tab" and you can see customize option then.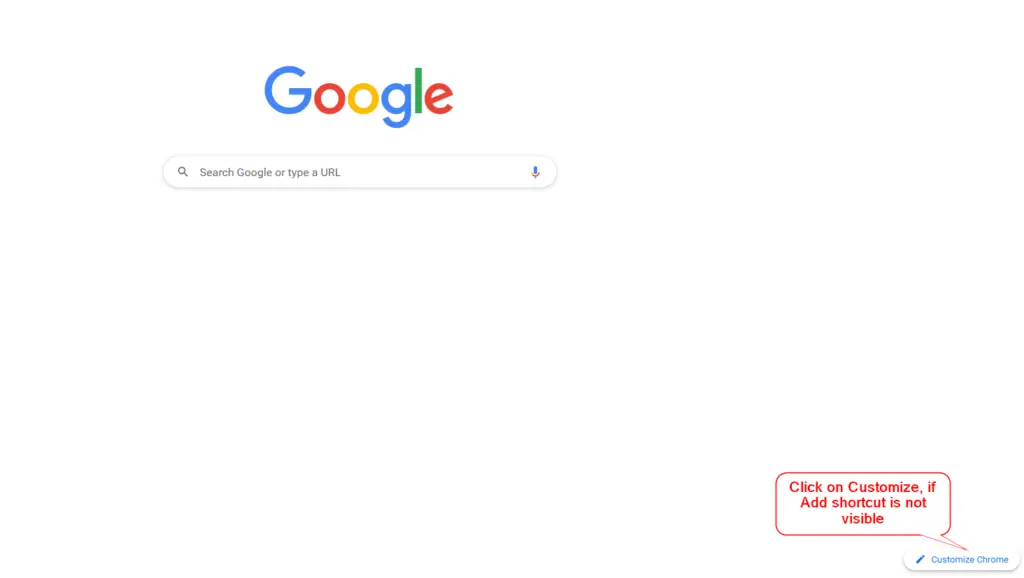 Step-2.2 Disable "Hide shortcuts" in the Shortcuts menu to make "Add shortcuts" visible
Select "Shortcuts" in the left side bar as shown in the image
Currently it's enable and that's the reason "Add short cut option is hidden". Make sure you switch off or disable "Hide shortcuts" using slider.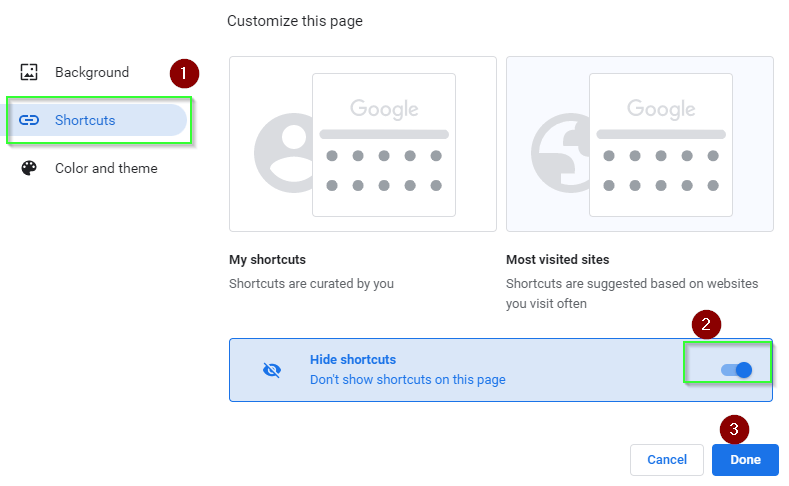 Once you will disable this option, you will get two options to choose

My shortcuts – This option allows to manage our shortcuts or thumbnails manually. whatever website shortcuts you will add manually. It will remain there for your use.

Most visited sites – If you will select this option, based on your most visited sites, shortcuts or thumbnails will be added to your Google Chrome homepage automatically.
I will select the "My shortcuts" option for this post assuming, you don't want to change your added shortcuts automatically.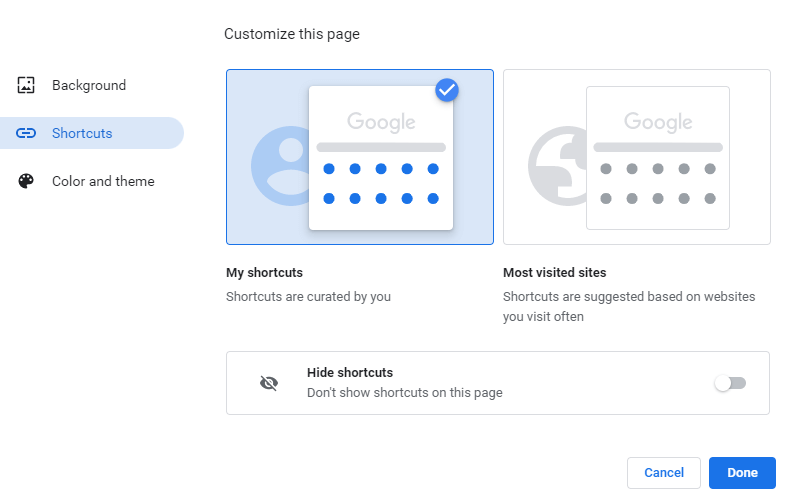 Click "Done". Once you have completed the suggested changes. Now Add shortcut button will be available.
Step-3 Add shortcut of your favourite website to Google Chrome homepage
Now You have the Add shortcut button available in your chrome browser. Just click on "Add shortcut"
Enter your Webpage name. For e.g. I have given name as "Facebook"
Provide webpage link in URL field. E.g. https://facebook.com/
Click on Done as shown in the image.
Now you will see this Facebook shortcut on your Google Chrome home page. Likewise, you can add more thumbnails to the Google Chrome homepage.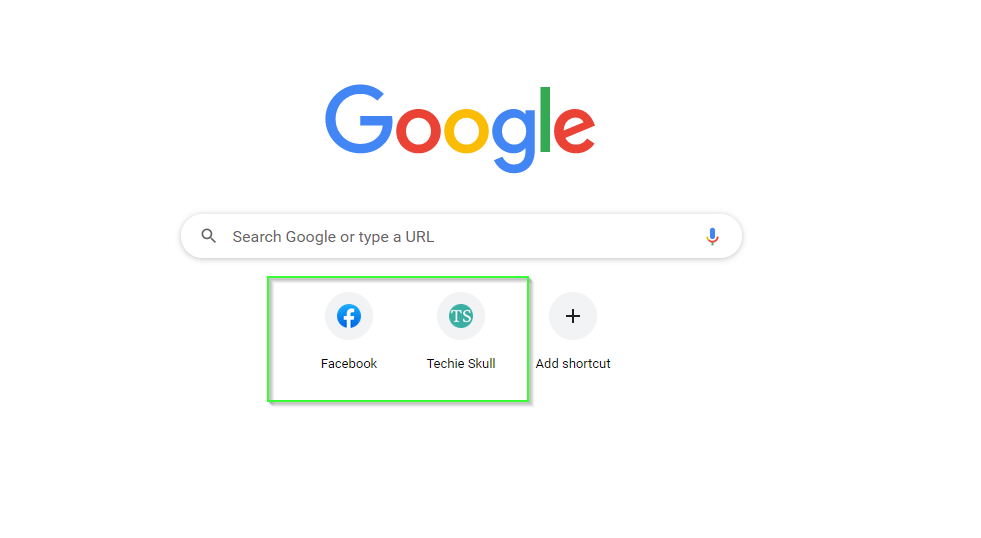 Method-2 Add shortcut to Google Chrome home page using Chrome extensions
If you are a pro and want to customize and arrange your shortcuts and bookmarks according to your choice. There are a lot of Google chrome extensions are available. Below mentioned are the exclusive list but not limited-
The speed dial is one of the most installed and highly rated chrome extensions. I will show you how to install the Speed dial chrome extension and add/manage your shortcut to Google chrome.
Step1- Open your Google Chrome Browser
Step2- Search for "Speed dial" chrome extension
You can search for "speed dial extension in Google or click on this link, it will take you to the speed dial home page directly.
Step3- Click on the "Add to Chrome" button to install the speed dial extension

Step4- Keep clicking "Next" and complete the welcome wizard of Speed dial Google Chrome extension
Read and keep clicking the "Next" button couple of times to complete the Welcome wizard of speed dial chrome extension.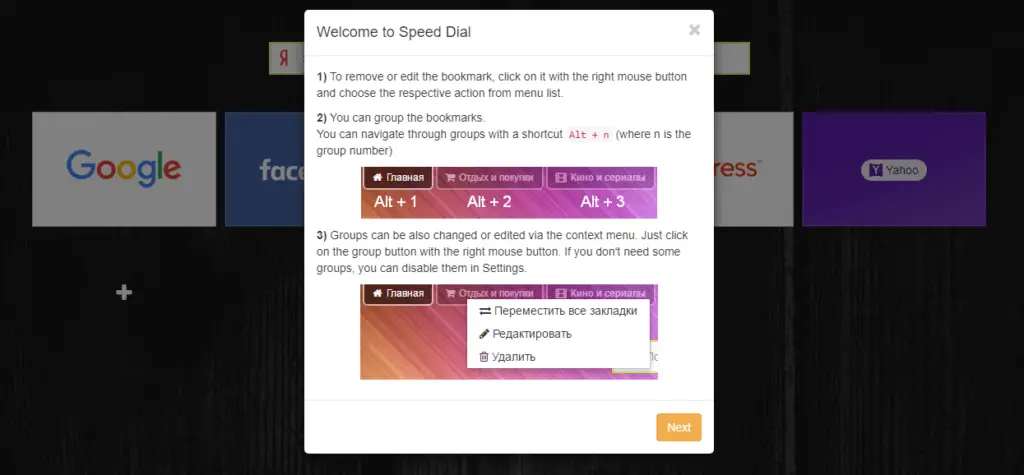 Speed dial chrome extension changes the default page of Google with its page so that you can customize it as per your wish.
Select the "Keep it" option

Step5- Click on the "+" sign and add your add shortcut to Google Chrome homepage
On the homepage, click on the "+" sign
Provide link to the page. eg. I have given "https://techieskull.com
Provide name or caption of this webpage or bookmark. eg. I have give Techie skull, which is my website name
You can also select "Group" as shown in the image
click on "Add" to add this shortcut or bookmark to your Google Chrome homepage. Now you can add icons to Google Chrome homepage and can manage them easily.

Congrats! now you know 2 ways on "how to add shortcuts to Google homepage".
How to add shortcut to Google Chrome homepage Android
In Android, the shortcuts to the Google homepage are added automatically, based on the site visited by you very frequently. There is a maximum of 6-8 shortcuts you can see on your Android Google Chrome homepage.
Follow these steps to add Google chrome shortcuts.
Step1- Long press on the icon and select Remove
Open Google chrome on your android device
Long press on the shortcut, you want to remove
Select "Remove" from the options
Keep removing till the time you have less than 8 shortcuts
Step2- If you have bookmarked the site, delete it from bookmarks
If you have added your site as a bookmark, delete it. Otherwise, it will not populate your bookmarked sites in the shortcuts.
Step3- Enter or paste the URL of the site you want to open then close and reopen the Chrome
Make sure you visit the site by entering or pasting the URL, which you want to make a shortcut on the homepage of Google Chrome.
Close and reopen the Chrome, shortcut of your site must be there.
Summary
There is still no official methods to add or customize shortcuts in the Google Chrome homepage for android OS, but you can workaround as suggested in this post. While on desktop you have 2 methods to add shortcuts to the Google Chrome homepage.
Let me know, which method you liked the most via your comments.