As per statista.com, Currently around 1.8 Billion active users using Gmail accounts in 2021. So getting "Gmail something went wrong issue" is obvious in many cases.
There may be many reasons, for this error to occur. Sometimes it's really frustrating when you want to access or draft an important email in Gmail, and you are not able to do so.
Before moving to the solution, we need to understand the type of errors and cause individually. This will help you to troubleshoot your issue quickly.
These are the few errors listed, a Gmail user generally faces:-
Gmail something went wrong, try again later
Gmail something went wrong and you need to sign in again
Gmail something went wrong we couldn't find your settings
Cannot sign in to Gmail something went wrong
Gmail oops something went wrong
Let's understand what may be the reason to get these errors –
There is a scheduled or unplanned downtime with Google services like Gmail.
You have intermittent issues with your Internet connection
Some Chrome extensions may block or create issues with Gmail
Your Chrome browser is corrupted or having issues
Some firewall or Antivirus issue in your system
When we know the cause of errors, Let's deep dive into the solutions step by step.
Fix 1 – Scheduled or unplanned downtime with Gmail
Being an IT professional, I know technologies and hosting hardware have their own limitations.
You need to maintain, upgrade and patch hardware and applications. So You need some planned downtime for maintenance. And Google is no exception.
Sometimes due to some glitch, bug or human error, Downtime may occur unplanned.
So whenever you get Gmail something went wrong error, The very first thing you should check the Google workspace dashboard.
Visit "Google workspace Dashboard site" and check for Gmail service as shown in the image.
Checkout for dot colour against current day's date. Green says,

No issues

. Orange means

Service disruption

and Pink confirm service

outage

.

If you see a green dot against that date column. It means all is well at Google's end and you need to check at your end now. In this case, move further in this post for other solutions.
The same fundamental applies to all other Google services also like Google drive, Google docs and Google calendar etc.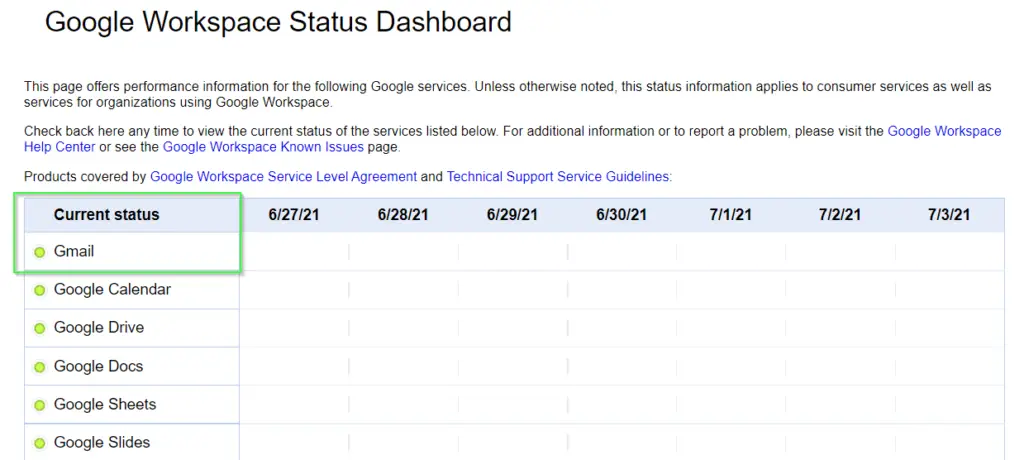 But if there is an orange dot or Pink dot in that date column. It means Google is experiencing disruption or outage for that service. You need to relax and wait for the issue to fix and retry accessing your emails later.
For example, there was an issue recently on 22nd June 2021 with the Admin console and Google reported that in Dashboard.

To check the details, you can simply click on that Orange or Pink dot to get the outage details. Same you can check for Gmail, in case you are facing issues.

Fix 2 – Intermittent issues with your Internet connection
This is one of the major reasons when most Gmail users get the "Something went wrong" error occurs.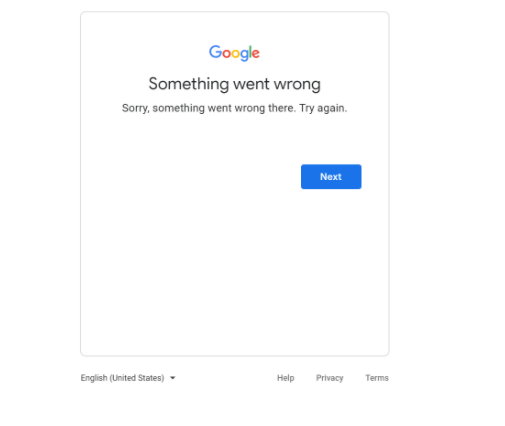 It may be some intermittent connectivity issue with your Internet or Wi-Fi during the login of your Gmail account. Most of the time it may temporary.
Just need to refresh or re-login to your account again and everything will be fine, if not. Try pinging Google to check, whether your internet is working fine or not.
You can also try restarting your Wi-fi router to fix your internet first.
If the Internet is working fine and there is no issue reported at Google workspace dashboard. Then move to the next solution.
Fix 3 – Chrome extensions may block or create issues with Gmail
We all use different chrome extensions or plugins to add some functionality to Chrome. For example, the click and clean extension help you to clean your browser.
But these extensions sometimes blocks or may interrupt the functionality of applications like Gmail.
So if you are getting Gmail something went wrong error, follow these steps –
Try opening Gmail in "Incoginito mode". Plugins or Chrome extensions doesn't work in Chrome in Incognito (private) mode. If your Gmail works fine inside incoginto mode. It means there is some issue with Plugins or data stored in cache.
First of clear all history, cache, cookies and then try again log in to Gmail account.
Click "⋮" symbol in chrome > settings > Privacy and Security. Clear browsing data and Cookies and other site data.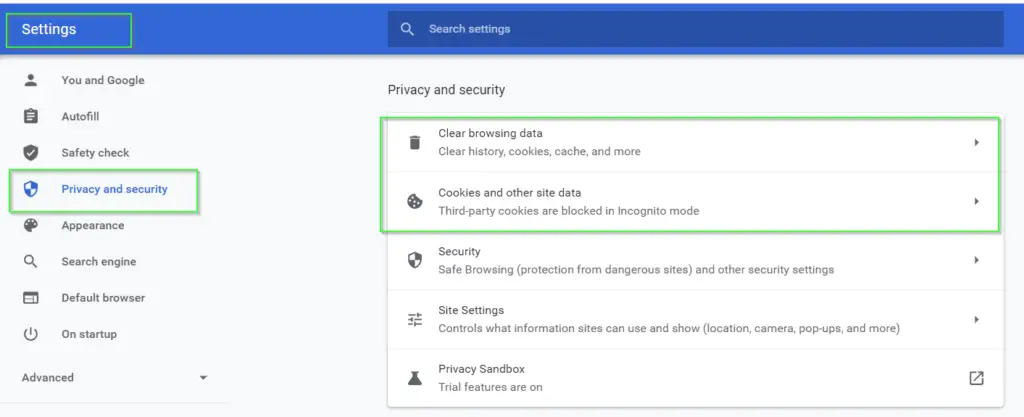 If cleaning cache doesn't help. Try disabling all Chrome extensions and then try log in to Gmail. I am sure you will be. Then enable plugins one by one and see which one is the culprit one.
Type "chrome://extensions/" in your chrome browser > Disable all plugins one by one using slider as shown in image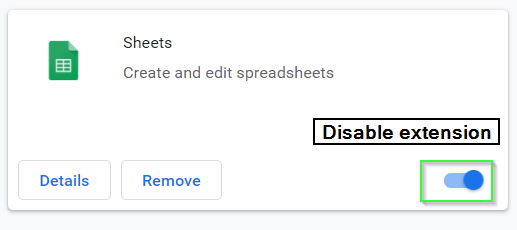 If Gmail something went wrong error is still following you, even in Incognito mode, move to the next solution, please.
Fix 4 – Your Chrome browser is corrupted
There may be a chance, your Chrome browser is corrupted and resulting in a Gmail error. To confirm it, Try opening Gmail in a different browser like Firefox.
If you are successful using another browser. Then it's time to fix your Chrome browser.
First try updating Chrome, if it's long pending. That may fix the issue. If Chrome is already updated to the latest version.
Then try uninstall and reinstall chrome by following these steps in Windows 10 –
On your computer, close all Chrome windows and tabs.
Click the Start menu   Settings (Gear Icon) in left bottom.
Click Apps in settings.
Under "Apps & features," find and click Google Chrome.
Click Uninstall.
Confirm by clicking Uninstall.
To delete your profile information, like bookmarks and history, check "Also delete your browsing data option."
Click Uninstall.
Now download the Chrome again and install it as regular app.
Open your device's Settings app .
Tap Apps & notifications.
Tap Chrome . If you don't see it, first tap See all apps or App info.
Tap Disable.
Go to Google chrome and Tap install and then select to install Chrome again.
If none of the above solutions implies your problem and you are still oops by something went wrong error. Just check your Antivirus or firewall settings.
Fix 5 – Some firewall or virus issue in your system
This is the final fix, which will definitely help, in case nothing is working. There may either some firewall or Virus issue in your system. Follow these steps
Try disabling windows or third party firewall, if it resolve issue.
Try scanning your system completely using Antivirus you have installed for your PC protection. May be some Malware or Virus is culprit for this is error.
If all Good and you found no virus, then try disabling your antivirus and check whether you are able to login to your Gmail account.
Final words
I hope out of 5 solutions, at least one will work for you and you will get rid of the "Gmail something went wrong error". Let me know, which fix worked for you.
If you are still facing issues, let me know the details via comments. I will try to solve it for you.